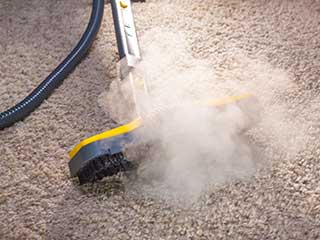 There are hundreds of allergens and pollutants found in carpet fibers. This is one of the many reason for having your carpet cleaned. Carpet Cleaning Studio City thoroughly understands the effectiveness of steam cleaning carpets. While most people take some of the important steps to maintaining the life of their carpet, such as vacuuming, this only removes what is on top. Steam cleaning is a deep cleaning method that helps to remove dust mites, built in dirt, pet hair and other small debris found under the surface of your carpet. Pollutants and other dirt and germs are constantly tracked onto your carpet. This build-up affects the appearance and the life of your carpet.
Steam Cleaning Process
The process begins with a limited amount of cleaning product placed on the carpet for just a short amount of time. Once it has sat for an appropriate amount of time, the carpet is rinsed with hot water to extract the debris build up. The amount of moisture applied will depend on the surface. This is important so as not to adversely affect the underlying fibers.
Steam Cleaning Benefits
Some of the benefits of steam cleaning have lasting benefits. Here are two important reasons for you to consider having your carpets steam cleaned:
Retain Its Appearance
The carpet will begin to show signs of buildup of dirt and other debris. The steam cleaning process can extract those hard to reach particles. This process also decreases the germs, bacteria or toxins found deep within the fibers. This means it is cleaner because all of the aforementioned have been eliminated due to the effectiveness of the steam cleaning.
Less Costly Expenses
With the effectiveness of steam cleaning, you will not have to replace your carpet because you no longer like the way it looks. In addition to it having an improved appearance, the stains will not reappear once they have been effectively treated and steam cleaned. Since this method is not abrasive, it can be performed on more delicate carpet materials. You don't have the problem of trying to find the perfect carpet again because with steam cleaning, your carpet can look brand new again.